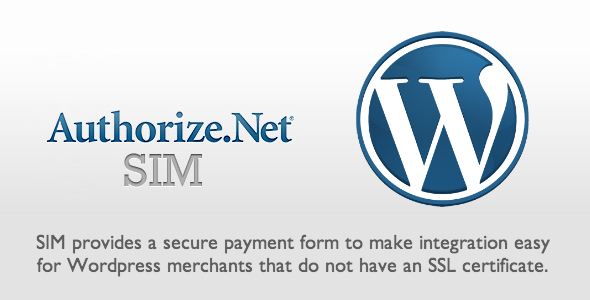 The Authorize.Net Server Integration Method (SIM) provides a secure payment form to make integration easy for WordPress merchants that do not have an SSL certificate.
Important Information:
You must have WordPress installed, and your website or hosting provider must have server scripting or CGI capabilities for PHP.
You must have a merchant bank account that allows Internet transactions.
You must have an e-commerce (Card Not Present) Authorize.Net Payment Gateway account.
Your website must be capable of performing an HTML Form POST to request the secure payment gateway hosted payment form.
You do NOT need to have an SSL with this plugin.
Test Payments:
You can use the following test credit card numbers when testing your connection. The expiration date must be set to the present date or later:
American Express Test Card: 370000000000002
Discover Test Card: 6011000000000012
Visa Test Card: 4007000000027
Second Visa Test Card: 4012888818888
JCB: 3088000000000017
Diners Club/ Carte Blanche: 38000000000006
Payment Form:
[authorize formurl="https://test.authorize.net/gateway/transact.dll" loginid="86AANvv82Ly" transactionkey="2WF9922tBC2pv6an" title="Online Payments" test_request="true" button_title="Continue" show_invoice_num="Y" show_description="Y"]